Alpine Summer
Posted on January 26, 2019 - Leave a Comment
Vanoise National Park
Hiking the French Alps 
In the morning we set out from Pralognan.  The village sits in a forested valley surrounded by peaks of gray granite.  It's a two hour drive from the stylish avenues of Geneva.  The Latvian fellow who drove suggested the scenic route through Annecy, along the shore of a blue lake with small white sails.  Above the lake against a green mountainside, harlequin colors swirled.   Hang gliders passed over the road, landing on the beach. 
Pralognan is a ski town. It has a couple of restaurants, a tiny grocery store (heavy on cheese) and an ATM. It is at the foot of towering mountains and has the flavor of the end of the road, which it is. There is one road in. There are no roads over the mountains.  But a lot of hiking trails.
It was a sunny day and cool.  Our hotel, the Edelweiss, is run by Thierry and his wife who staff the kitchen, wait the tables, cover the desk, and cheerfully struggle with the questions of hikers who speak a language they little understand.  They make us sandwiches and see us off. 
The map paints a clear picture.  Col de la Vanoise, the mountain pass where we sleep tonight, is 3500 vertical feet above.  We are headed up.  All day.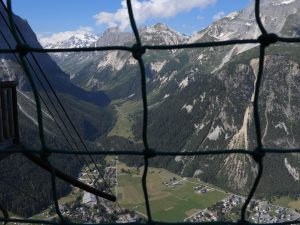 Call it cheating.  We considered it opportunity.  A few steps from Thierry's front door a set of cables traced the giddy angle of mountain to an invisible platform up somewhere near the treeline.  As we contemplate the cables, a gondola swings by.  At a tourist desk, a woman pulls out a map and tells us good news.  The ski tram, still running in summer, rises 600 feet and terminates a hundred yards from the trail.  
We pay a few euros and climb on.  The tram shudders and lifts away from the station. We rise almost straight up.  The treetops fall away.  We are soaring above the valley.  Wow, this is steep.  This would be tough with a pack.
The car thuds into the platform.  We pull on packs and begin winding through the forest.  In an hour we reach Barmettes, above the tree line.  It is a refuge as they call them, an inn where hikers can find a room, a shower, even a bottle of wine.  Most are staffed with gardiens, who prepare and serve meals.  The food and wine are good – this is France. But we aren't staying in Barmettes.  We have reservations in Refuge Col de la Vanoise, at the very top, several hours away. 
From Barmettes, we spend the afternoon scaling switchbacks and traversing sunny meadows, climbing steadily.  It is surprisingly warm.  At Lac des Vaches, a lake sitting in a bowl beneath slabs of granite, we stop to rest.  
We are on a hiking circuit around the Glaciar Vanoise, which lies in the middle of the French National Park of the same name.  Many of the peaks are still snowbound in July.  But it's summer, and the melt is in high gear.  Water is pouring off the mountains.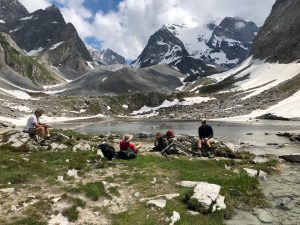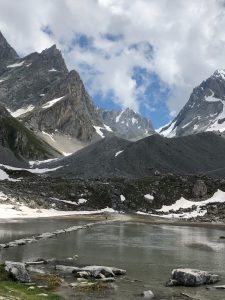 A causeway of stepping stones crosses the lake.  On the other side the trail leaps into switchbacks which climb to a series of meadows.  The path meanders through swells of wildflowers.  The mountains are closer now, surrounding us in snowy summits.  By middle of the afternoon, we enter the lower terraces of the Col – the French term for pass.  
The meadows are streaked with snow.  Soon it is everywhere, and progress is slow through what has become a winter landscape.  A boot grommet catches a lace and I sprawl headlong.  But it's snow.  I lurch back to my feet without a scratch.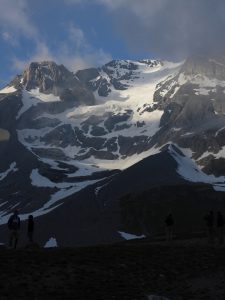 Higher, the wind picks up.  The terrain is easier.  The trail is a traveled path through the snow.  It seems to stretch endlessly, gently climbing, weaving, disappearing in the distance.  A hundred feet below a lake is catching runoff.  We can see where the pass splits the peaks, which are not as high as before.  Above are glimpses of Grand Casse, the highest mountain in the Vanoise, a fortress draped with a glacier spilling from the top.  It is a dramatic river of white slipping down the mountain like ice cream gone soft.
Eventually le refuge comes into sight.  It is a sturdy stone building with a large dining room on the first floor and dormitories above.  At a table outside a fellow strums a guitar while a woman plays the violin. Clouds have gathered.  Col de la Vanoise is one of the higher elevations, and acts as a weather bottleneck.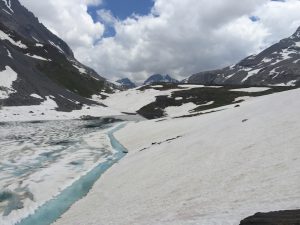 It is the house rule to remove boots in favor of plastic shoes found in cubbies in the sous-sol, the ante-room in the basement.  We drop the packs.  The gardien assigns us a room. The French I've been working on isn't going too far.  She's trying to tell me something I need to know.  Nobody speaks English.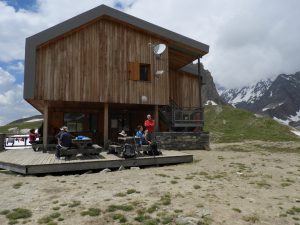 Dinner is at 7:00.  Breakfast is at 7:00.  Sept heures. It's easy to remember.  At our table is a French family from Brittany.  There are no Americans, or for that matter English-speaking people.  Vanoise is French.  There seem to be more older people than young, all lean, gray, tanned and genuinely friendly.  About the only other tribe we encounter are the Dutch, whom we keep running into.  They speak some English.
Even in these rustic refuges, the dining has a French style.  They pass a large pot of soup with bread, followed by a main dish.  When that has been devoured, a tray appears weighted with slabs of cheese.  Finally, they pass around dessert.  And wine.
Although this is southern France, it is called Savoy, the Savoie, a mountain region between Switzerland and Italy.  Its vertical geography has not meant independence, as it has in Switzerland, but has helped sustain a cultural identity.  For centuries it was a bargaining chip tossed from dynasty to dynasty, but affiliated with none.  Only in 1860 did Louis Napoleon's Second Empire attach it to France.   There are still calls for Savoyard Separatism.  
But wonder.  Why would anyone separate from France.  Between the food, the wine and the people, it is hard to imagine living any better.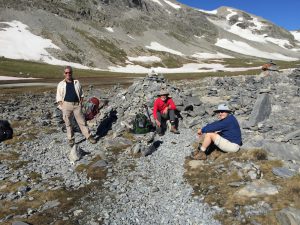 Day 2.  From la Vanoise, mercifully, there's nowhere to go but down.  We head to the other end of the pass.  The sun is bright.  Everywhere is water.  It flows in small rivulets across the trail, into larger streams which pour over the rocks.  It thunders under bridges in foaming torrents.  In many places it has no definition.  It moves almost en masse downhill, glittering in the morning sun.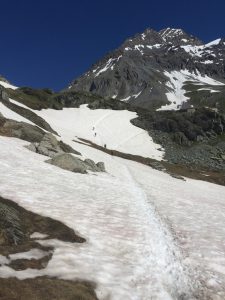 We emerge onto a flank of mountain, shrouded in snow.  The trail through the snow – nothing more than a line of footprints – is midway up the mountainside. It is steep, steep enough to think about.  Plant the stick, find a footing, and repeat.  But something happens with our friend.  He slips, loses his balance, and toboggans down the slope.  He lands in a meadow, unhurt.  But he, and the rest of us, are thoughtful.  A hundred yards back, he would have bobsledded into the rocks.  
The trail continues to weave along the flank of mountain.  We are high up, halfway between the spiky ridge and the valley floor.  There are places where the trail disappears into boulder fields, and then back into snow.  It is slow going.  The sun is bright, relentless above the treeline.  From our vantage we look down a couloir – a narrow valley along which a tan ribbon of trail disappears in the distance.  
That way is Val d'Isere, the eastern side.  Val d'Isere, Jean Claude Killy and the three golds, an icon from my childhood.  There is some magic to it.  Where we lunch, another trail disappears into a sweep of valley toward the village of Termignan, to the south.  Nearby, commanding a view of the several valleys is a crumbling stone structure, more of a stairhead, which disappears underground.  It is a World War II bunker, so they say.  It is an odd fit in this wild country.
We spend the afternoon on a trail scratched into the hide of the mountain, overlooking a plunging valley – the Doron Gorge.  We are headed to a refuge called L'Arpont.  But something is off.  It's supposed to be 13 kilometers – 8 miles.  At 8 miles we are not even close.  
The terrain changes.  We drop into a watery basin, more hard rock than meadow.  The landscape is folded and fractured, carved by streams and flooded with melt.  The trail has vanished, replaced by cairns – small rock piles – which point the way.  We wander back and forth through this maze of brooding rock, squinting for cairns.  Over an outcrop the trail reappears and disappears into the distance.  This can't be right.  We should be at L'Arpont.  The trail climbs again.  There is no sign of the refuge.  The trail is quite narrow and the topography steep.  There is hardly a place to sit down, much less plunk a building. 
We eventually descend, veer into a cleft, and there is Refuge L'Arpont.   The refuge is several stone buildings, with a terrace, which seems suspended over the valley.  It is a sharp drop into the Doron.  Across the valley is a statuesque peak capped with a glacier, the Glaciar du Vallonett, which glows in the afternoon sun.  After dinner we step out to the terrace.  In the last blush of daylight, Vallonett has softened to a milky ethereal presence.  These jagged, snowy peaks are never more surreal and beautiful than in the last moments of day.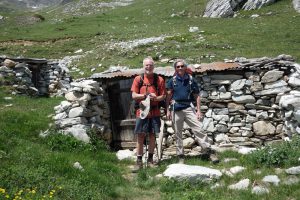 Day 3. The next morning we are headed to Dent-Parrachee, another 13 kilometers.  From L'Arpont we drop into a meadow dotted with the ruins of defunct farms.  They are old stone structures, roofs spavined, walls caved in.  There are many.  We can only guess that a herder economy, a livelihood of goats and sheep, must have taken a hit, and the farmers exiled to the towns that lie south, beyond the lash of Alpine winters.
Like yesterday, the trail winds up and down the flank of mountain.  Occasionally we crest a ridge into another drainage.  Mostly we follow the high contour of the valley south, surrounded by bare gray peaks.  The sun is strong.  The weather has been with us.  A storm up here would be tough.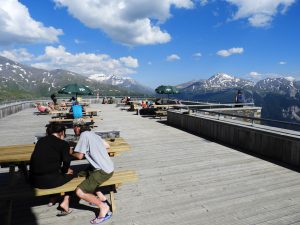 A patchwork of roofs is visible in the valley.  A blue ribbon of river surrounds a village.  It is miles away but translucently clear, magnified by the thin Alpine air. It is Termignan.  Our friend who took a tumble in the snow announces that he's leaving.  He is a spooked by Col de Chaviere, our last day's hike.  Chaviere is another high pass and reportedly choked with snow.  Jim has lost his enthusiasm. There was a junction for Termignan back aways.  He's heading down.  
There were moments when I shared the sentiment.  Just before lunch we stop a the edge of a real river and no bridge.  A snow bank up a shady bend looks like it crosses.  We slip and slide to the top, but it drops into the river. That's Ken and Randall's choice.  
Downstream it is not so wide but the water is fast.  It's inevitable.  I roll up pants and step into the current.  My boots fill with ice water.  A hop or two and I'm across.  But now the bank.  It is ten feet high and almost straight up.  Upstream, downstream, the bank drops into the water.  I'm a little trapped. There's a handhold here, a foothold there, but nothing to pull me over.  A slip and I'm in the river.  That would be no fun.    Finally, with a foothold, I reach overhead and grab at a handful of grass.  There's nothing else.  But it's a sturdy Alpine grass.  One more handful of sod and that will do it.  I crawl over the top, on all fours, panting like a dog.  Randall and Ken are stretched out in the sun, boots off, nibbling sandwiches.  We were starting to worry about you.  Yeah, I can tell.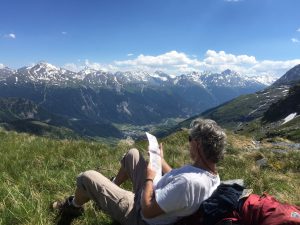 There is no guide for this type of trek. We hired a company to reserve the huts and supply us with maps and "notes" that describe the trail.  This company apparently hadn't done much guiding in the Alps.  The notes are almost useless. It says it's 8 miles to Dent-Parrachee, which is higher than L'Arpont, with a steep climb at the end.
By mid-afternoon, we passed the 8 mile mark.  But nowhere near Dent-Parrachee.  We hadn't even seen a sign for it.  I'm out of water.  Not usually a big problem.  There's water everywhere, but none close by. In the distance is a finger of snow and a stream splashing over the trail.  Another crystal clear mountain stream – but no.  This one was thick with sediment. Still, it's snowmelt, so hopefully no disease. The water is a brown cloud in the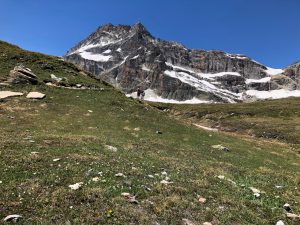 bottle.  It actually has a sort of pleasant tang.
The trail stretched on.  Ken and Randall are ahead.  There is a wall and what looks like the end of the trail.  It seems to stop, but instead drops abruptly into a maze of switchbacks which end in a meadow way below, so far below that I can't tell if the two figures down there are my friends.  It was depressing.  We're not sure where we are.  An hour later, around 5:30 – nine hours since leaving this morning – we pass under some sort of ski lift. There are cables overhead.  We're pretty whipped.   
There's a small yellow sign for Dent Parrachee, 1 hour away.  But that's fantasy.  In the fatigue, we're taking breaks every few minutes.  Dent-Parrachee is a steep climb, and the junction itself is more than a mile off. It would be past 7, dinnertime, before we arrived.  
But we spot another sign for something called Refuge Plan Sec.  We caught a glimpse of roof over the brow of the hill.  My French is awful, but it's all we got.  I trudged like a convict up to a stone building where a man and woman were sitting in a small courtyard.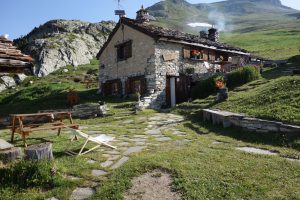 Etes-vous la proprietaire?  I asked.  Oui, she said. She's the boss.  Avez-vous des lits (have you any beds).  Oui.  Et diner?  Bien sur, she replied.  What good luck.  We could take our packs off. We could stop walking.  I tipped my head back in relief and muttered for the benefit of my saviors "Vive La France".   
They gave us a huge room, more of an attic, dark with old wood and low timbered rafters.  It had no electricity but no problem.  We wouldn't be up that late.  We had it to ourselves.  The property had been in the woman's family for two hundred years. In the winter, abandoned for the season, the bar and restaurant on the first floor lie under nine feet of snow.  
In the small bar, the French woman appeared again. She was also the barkeep. I asked for a beer. Simple. There's one tap. And of course, it's France. Even the beer is good.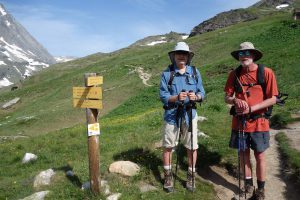 There was only one other group at Plan Sec, from the Netherlands.  The Dutch again.  They spoke passable English.  We ate dinner together at a large table by a cavernous fireplace. The lights were dim. They run off a generator. The French woman brought out dinner.  Soup, of course, followed by a bowl of potatoes and sausage. Then slabs of Beaufort cheese.  A Savoyard dinner.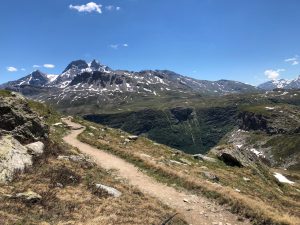 For dessert, she turned down the lights and served a creme brulee, flaming blue with a local liquor made from the Genepi flower.  I suggested that this sort of liquor was strong for American tastes, but was no doubt mother's milk to the Dutch.  I don't think my edgy humor translates well.
Day 4. We are headed to Refuge Orgere.  From Plan Sec the trail follows a vehicle track above a deep blue lake.  A mile farther the trail branches.  One route heads uphill to Dent-Parrachee, yesterday's destination.  Another bends toward Refuge Fournache, visible high up in the meadow.  This is ours, which doubles back behind the lake.  Once again we are climbing.  The lake is virtually a sheer drop.  It is steep geography.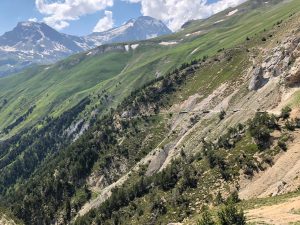 The trail is safe but dizzying in places.  After a couple of hours we circle the lake and branch off into a grassy meadow, the Col du Barbier, another pass.  Barbier is not so high as Vanoise.  Our friends at Plan Sec have packed us a bag lunch.  We stretch out among rolling waves of yellow and purple flowers. The sun is warm. I could sleep. 
Refuge Orgere is at the southern edge of the park, about a 1300 foot vertical drop.  We hike down and down, leaving the open country.  We enter a shelter of conifer forest.  The switchbacks are tough on the knees.  But we're not complaining.  It beats the heart-pounding, sweat-pouring toil of climbing.  We reach Orgere in late afternoon.  
Our Dutch friends appear again at dinner.  I have washed a shirt – wash it or burn it.  And have hung it outside.  Predictably, hanging it to dry alerts the rain gods, who dispatch the first really wet weather we've encountered.  I had also tossed a few socks and shirts over an outside railing at the top of the stairs.  There are a few big splats and then while we eat, it pours.  When we head to bed, I find a pile of dry clothes on a bench by our door.  Someone retrieved my clothes before the rain and folded them.  
Day 5.  The trek to Refuge Pecolet Polset will be a challenge.  It lies the other side of Col de Chaviere, reportedly snowbound. It snowed quite a bit this year and has not melted high up.  From the first step at Orgere we head straight up, plodding back and forth among the switchbacks, soon drenched in sweat.  We ascend through a pine forest to meadow.  Ken and I are together.  Randall is up ahead, impatient I'm sure with our lingering.  Randall is a corporate guy, focused, goal-oriented.  On the other hand, I want to enjoy myself, be in the moment, savor the sweetness of life.  Which is to say Randall's in better shape than I am.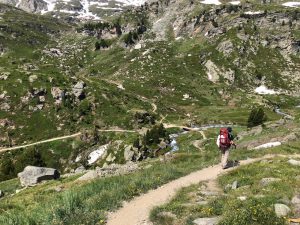 Through the morning the path weaves through Alpine meadows.  The treeline is far below. The mountains rise in lofty pinnacles, called aiguilles – needles.  They catch wisps of cloud like rags.  It is a fortress of snow-capped summits.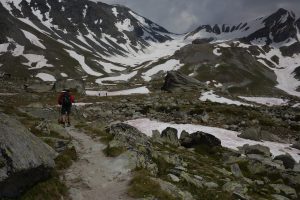 In the distance we spy a breach in the wall blanketed in white.  It has to be Chaviere.  We have to hike over it to reach Pecolet Polset.  But it is far off, a couple of hours.  We crest a ridge and descend into a boulder-strewn flat threaded with streams.  The Col is closer now and more distinct.  We parse it to see if the trail will take us high or low.  This was Jim's concern, a slippery trace high above the valley floor.  The distance is deceiving.  We cannot tell.   
We climb over another hill and come upon a couple staring through binoculars at the ridge above us.  They have spotted an Ibex, with large horns, something like a Bighorn Sheep.  We spot him on a rock at the top, his horns silhouetted against the sky.  He appears to be looking down on us.  It is a grand sight, a prince of the Alps, gazing down from the crags.  They live only in the upper reaches, among the cirques and ridges.  It is the preservation of this endangered animal which gave the impetus for the Vanoise Park.   
The trail weaves through more meadow. The Col is now overhead.  We squint for the tiny figures of other climbers.  We can't really see a trail.  The meadow has widened and the wind is stronger.  The trail seems to veer away from the base of the Col, around to the right. Time for a wardrobe change.  I am sweating with the climb, but it is suddenly cold.  In a snap, it has gone from breezy summer to chill winter.  I pull off damp shirts, and pull warm clothes out of the pack.   
In a few steps the trail tips up sharply into switchbacks, swerving in and out of snow. It has grown steely gray as weather pushes into the pass.  The summit looks far off, but more above than away.  It is impossible to tell how far.  Thirty minutes, an hour?  I have lost Ken, who is somewhere ahead.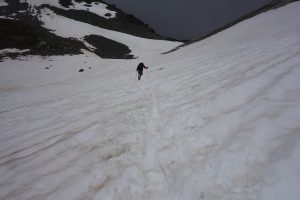 It begins to rain, but not hard.  The switchbacks are like stairs.  I catch up with Ken.  He's waiting. Better to be together.  Ahead is the snow we heard about.  It's white from here to the top.  We have somehow flanked the Col and cannot see it, but there are footprints.  Good enough.  We slip and slide, clambering around outcrops, sure of nothing other than the trace of prints in the snow.  Up we go.  
There is no destination at this point, just a white passage stretching before us. We are crossing our fingers against the rain as we jab one foot in front of the other, testing the hold.  We do not want to fall.  We look up and see Randall.  His arms are outstretched.  He must be at the top.  The rain which threatened a few minutes ago has yielded to a fierce wind.  We are close.  We slow as the pitch of the mountain grows more steep.  I am watching Ken's boots, then my own.  There's no looking down.  My oxygen-depleted brain would go dizzy in the gray light.  We plant each step.  Each footfall brings us closer. 
We look up and Randall is standing above us.  That's it.  The wind is terrific.  Its time to celebrate, but not much place for it.  A small plaque, a tiny patch of dirt amid a crowd of jagged rocks, barely a proper seat.  But we don't want to sit.  We'll stop below.  We take a few quick photos.  In moments we are stepping carefully over the rocks heading down.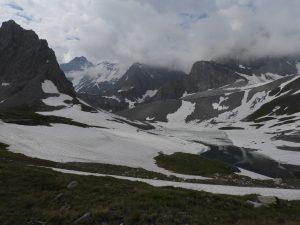 The descent is almost as bad as the climb.  It is steep, each step occluded by rocks.  There's little trail to speak of.  After both Ken and Randall take a tumble down an invisible ice patch (which I avoid by grace of their example), we lose all sign of the trail.  We stare into a snowy bowl.  It's steep and no footprints.  I'm not doing it.  We wander a bit, looking for clues.  We swing left over some boulders where the terrain drops out of sight.  On the other side, a shallow trench of disturbed snow is what we're looking for.  We follow the prints to a rocky ledge where we drop the packs.  Time for lunch.  I hang a wet shirt in the rocks.  The sun has returned, dry and warm.  
But in the valley the sky is growing dark.  It is an evil gray and moving toward us.  This looks like a storm.  We pack up.  It would be nice to be out of the snow before it arrives.  But the clouds press in, spit a little rain and are suddenly gone, just like that. 
Pecolet Polset is all downhill.  I pause at the head of a steep white slope.  We can see Refuge Pecolet Polset in the distance on a brow of rock.  This would be slow going, but instead I drop my fanny into the snow, lean back on my pack and let go.  I fly to the bottom, where the grade tapers and I can stand, a little wet.  Surely the trail is here somewhere.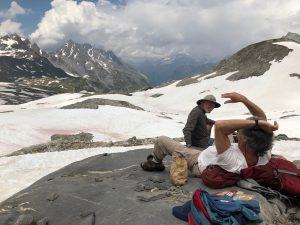 Day 6.  Back to Pralognan.  The evening in Pecolet Polset was pleasant.  Today there are no torturous climbs over slippery passes.  Its downhill.  The trail is a two-rut dirt track, broad and gently descending.  There are more streams pouring out of the mountainside, making us hop rocks to stay dry.  We encounter a lot of day-hikers.  We hear our first American accents.  A group from Indiana, headed for a night at Pecolet.  We are now out of the park and in Savoy farm country, a land of dairy cows and cheese goats.  
We hear a racket above.  In a tilting meadow is a herd of cows and men shouting.  It is hard to imagine how they got there.  Mixed in the din is the sound of dogs.  There are several herder dogs darting back and forth, yapping non-stop at the cows.  
What has now become a country lane bathed in morning sun dips toward a pasture and small stone buildings.  They are milking sheds and stalls, and one building where le fromage de chevre – the goat cheese – is made.  An old Frenchman approaches me and we chat, or try to.  He gestures to the twin peaks behind me, where a glacier hangs between two rock pinnacles.  It is Pecolet Polset, where our refuge got its name.  Not Pol- SAY, as I am pronouncing it in my pidgin French, but Pol-SETT, he instructs.  Above, way up top is Genepi Glacier, a blanket of white sprawling across the high horizon.  At this angle of the sun, it is glowing, alive, hard to grasp with the eye.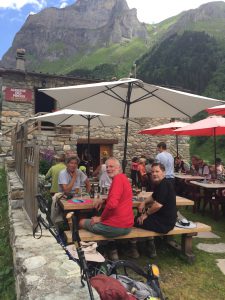 At a pasture full of cattle, their chestnut hides shining and bells clanging, is Refuge du Roc de la Peche.  It has a few outdoor benches next to a small stone chapel.  We stop for a drink.  It is Alpine summer here.  Further on, in the village of Les Prioux, is a restaurant with a large and crowded outdoor café.  There is a bus that serves Pralognan, which is still an hour away.  We're thinking about it. But the bus won't be here for more than an hour.  We have lunch, grab our packs. We are soon in the forest.  
The trail descends abruptly, almost dropping us into Pralognan.   Across town we see the cable car lofting into the sky.   The days have merged.  But today's date is easy.  Our return to Pralognan is July 4th, American Independence Day.  There will be no fireworks in Pralognan.  But as we approach the Edelweiss, Thierry steps onto the porch waving the American flag. He has hung it in our honor behind the reception desk.  At dinner he plays some American music through the tinny dining room speakers.  It is modern American pop, so it's pretty awful, but it's an uncommon gesture of friendship.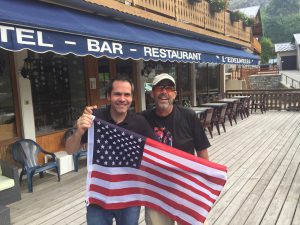 His English is not so good, but he surprises us with his research.  Throughout the hike we tread through a lot of snow tinted red.  It's a mystery.  Pollen maybe?  Bacteria?  We ask Thierry.  Le neige rouge .. pourquoi?  He appears at our table later to explain.  It is the Sahara.  We are in the south of France, close to the Mediterranean Sea.  The wind blows north from the desert.  What we are seeing in the snow of the Alps is the dust of the Sahara Desert.
Tom, the Latvian, appears in his mini-van, and we are headed back to the cobblestones and chapels of Geneva, the city of John Calvin and Rolex.  My friends head home. I'm waiting for the train to Montreux.
No Comments
No comments yet.
RSS feed for comments on this post.
Sorry, the comment form is closed at this time.